Home » Kerio User Forums » Kerio Control » connection limit reached
Show:

Today's Messages :: Show Polls :: Message Navigator

Messages: 1
Karma: 0
i got 2 computer has same problem connection limit reached..i tried to disabled connection limit and it didnt resolve my problem...those 2 computers cant access web i also tried to create rule in traffic policy like what ive read here in forum and its doesnt work also ..... i also adjst max connection limit nothins change.. pls help me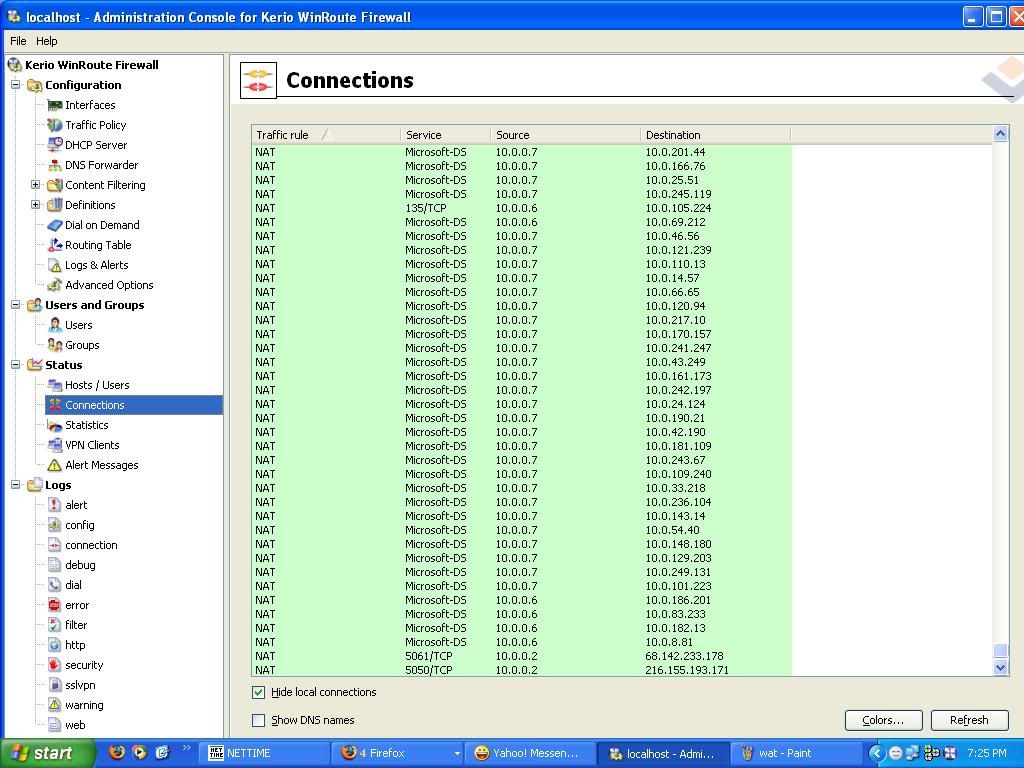 Messages: 5
Karma: 0
It looks like you have enabled nat for internal connections. Try to split internal and external connections:

name: external nat
source: lan
dest: internet
service: any (or specify service)
action: allow
translation: nat default outgoing

name: internal
source: lan, firewall
dest: lan, firewall
service: any
action: allow
translation: none

Messages: 1
Karma: 0
I have the same problems also.
Connection limit reached (but with port 6112 -for Warcraft Game)
and I have already did the above suggestion but didn't affect at all.
does anyone have a clue?
Last week my ISP accused me to be responsible for some DOS attack against other server (the traffic was coming from my server). So he was suspending my internet. ;( is this because of this traffic.

i have already checked the client's computer, but everything is fine, no spyware no virus no trojan.
is there anyone know what is going on?

Messages: 1
Karma: 0
i have the same issue ... i disabled the connection limit option and no gain .. is there any solution for this problem ????
Goto Forum:
[
] [
Syndicate this forum (XML)
] [
]
Current Time: Mon Nov 19 11:59:47 CET 2018
Total time taken to generate the page: 0.81944 seconds